In mid-September, we are happy to announce the new version for the third quarter. In this version, we have worked on some free features of our affiliate program, Samurai, and added new filters for our scanners.
Features in this version:
Added

affiliate program

– Let us know if you are interested

Free information

from samurai

Implied and Realized Volatility

filter

Added technical indicator – EMA

(exponential moving average)

Improvements and bug fixes

(universe, scenario, setting, etc.)
Affiliate Program (Private)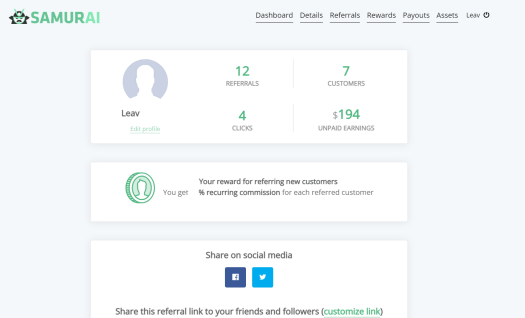 We have implemented affiliate tracking software and are beginning to test our affiliate program. We are looking for partners who can add value to our clients so that we can build win-win relationships.If you think you are the right partner, please contact us.
Free information from samurai
We are option traders ourselves and use our own tools to trade. To support our community and help build a healthy trading community, we have decided to share some of the unique data we use on the web for free. At the moment we are sharing useful information for trading covered calls and adding more details on more trading strategies and styles. Stay tuned for more details.
Implied and Realized Volatility Filters
Based on your feedback, we added the ability to scan according to IV and RV values ​​for stocks in addition to percentile values. This allows you to find trading opportunities with absolute high or low volatility rather than relative volatility.
Technical Indicators – Exponential Moving Average (EMA)
This was another request we received. As a result, the moving average filter has been improved with a choice of simple (all values ​​given equal weight) or exponential (more recent values ​​given more weight) calculation. This filter is useful as a trend filter, and you can now integrate exponential calculations into cross and percentile filters as well.
Improvements and bug fixes
We continued to improve the software in settings, universes, scanners, scenarios and servers to give you a better experience.
A version has been published and is ready for use.
The post Option Samurai Q3 2022 version first appeared on the Option Samurai blog.